the good:
It has been three months, and I still really LOVE my job.
(The crazy hours are a bit of a con, but I love the work)
Hostess is officially back, and the hubs is dying to get his hands on the new Twinkies.
Since I have been working the graveyard shift, I have had time to update my Sephora and Amazon wish lists on my phone...
(wink, wink hubs...my birthday is in three months...)
We're going to the dentist this week, which I am way more excited about than my husband is.
In case you missed it, my absolute favorite fictional 90's band reunited on Late Night With Jimmy Fallon. Check it out.
the bad:
Because we're both working all the time, we have about two weeks worth of laundry sitting on our couch...that'll be fun when I'm off this weekend.
Every time I try to put an outfit together, I feel like I have no clothes that look remotely attractive on me and feel like Dorothy from the Golden Girls.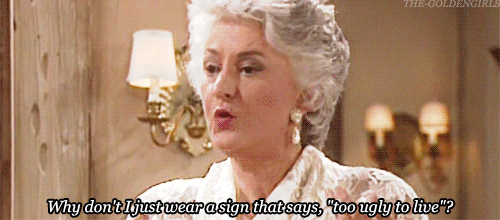 The other day I felt like an absolute horrible dog mommy because I put Morgan outside in his kennel early in the morning when I got home from work. I slept all day to prepare for another night shift, only to wake up and find it had been raining and my baby was wet because he refused to seek refuge in his covered dog house.
I cannot find my favorite curling iron, therefore my life has no meaning right now.
the ugly:
The bags under my eyes are no longer carry-on size and leading me to question all of my life choices. Therefore, I'm open to any/all remedies anyone out there in blog land might have to fix the bags and dark circles that are occupying my eye space. If you know of a product or something I should be doing, hit me up.
My hair is frizz central right now...curse you increase in humidity...
Last weekend was this HUGE music festival thing in the tiny town we live in(kind of like a Coachella for people who like to visit the mid-west). In other news, watch out for hung-over people and broken beer bottles this week.
I took a quiz online and the Sorting Hat put me in Slytherin. Seriously, I don't even know how to emotionally process that.