Everyday I feel like I am bombarded with images of fit and trim wives who also have a million kids and full time jobs. They have pristine homes, children who are always dressed in matching clothes and they always take the time to work out and look fantastic. I read posts in my bloglovin' feed
(have you switched readers now that Google Reader kicked the bucket? Bloglovin' is by far my favorite. You should totes try it out)
with titles such as
"How to be a better wife"
or
"Looking hot for your man"
or
"Why my life is put together and why yours never will be"
(okay, the last one may be a bit of an exaggeration....but still.)
I look to these women for inspiration, for an uplifting read and for help to become a better person. But lately I've just been feeling...
inadequate.
I mean, seriously, these women can keep it all together while working, having a husband AND having babies?! I can barely keep myself upright long enough to finish my school work and a shift at work. I'll admit, my husband cleans our little apartment dwelling far more than he should have to. I'll admit, I don't put together adorably photograph-able outfits everyday
.
I'll admit, I don't always throw cute parties when we want to have friends over. But guess what?
That doesn't make me a bad student, employee, wife or person.
All it means is that, I'm human. I have limits. It is a blessing to recognize limits so you don't overwork yourself. I'll do my best to be happy-go-lucky and come up with cute ideas for this blog. But, please understand when I don't.
Now that is off my chest, let's get onto the fun stuff...FOURTH OF JULY. We had a lovely little low key celebration with my parents and a couple friends. I made pasta, jello, potato and fruit salads
(but not all together...seperate salads...together would be gross)
and prepped food to be BBQ'd by my daddy. He is the grill master. We played tons of games such as Apples to Apples and Bananagrams. Then, of course, we set off some fireworks in our yard. Because nothing says I'm proud to be an American like explosives. Enjoy some pictures of our perfectly imperfect 4th celebrations.
Thanks for tuning in.
Loves and Hugs,
Megan
Linking up this week with Nugget on a Budget and Dawn's Disaster (two of my absolute favorite bloggers!)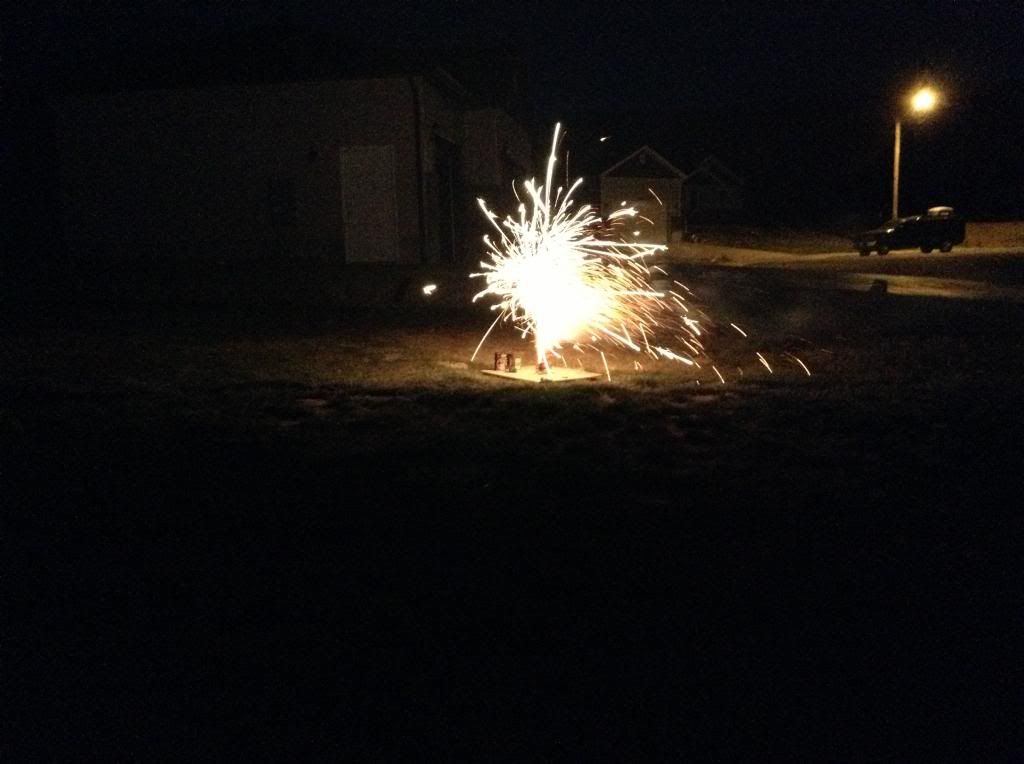 Daddy Potter, always all smiles

Rebecca, Andy, Momma Potter and JD playing Bananagrams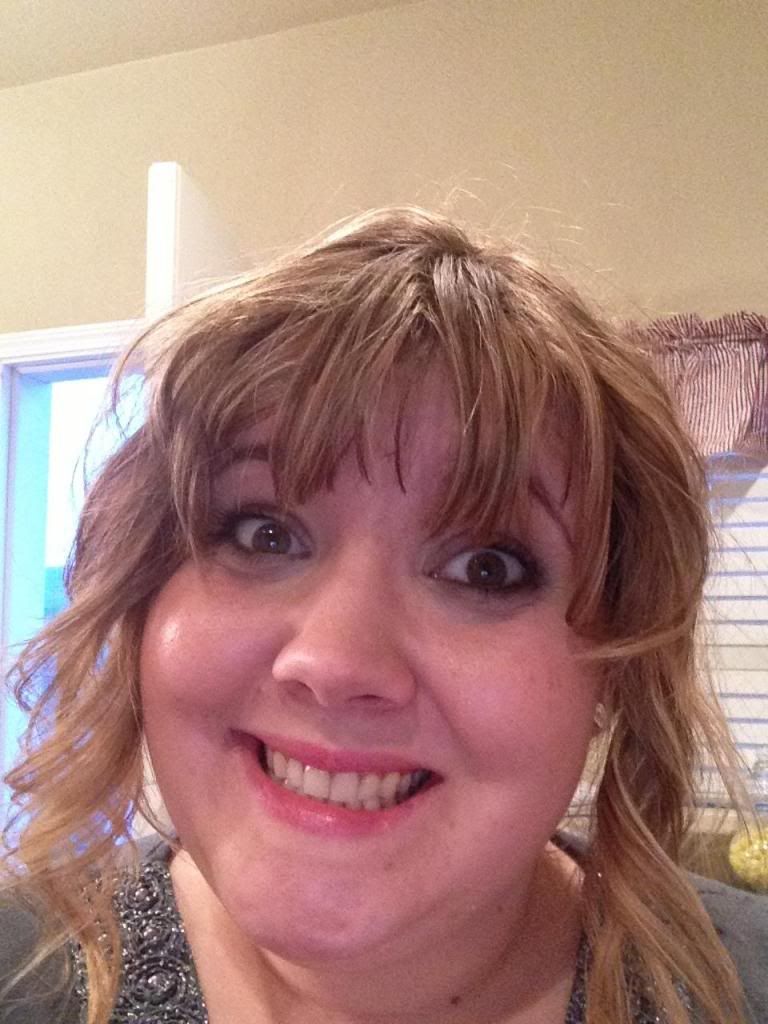 This is my "let's just go play with sparklers" face.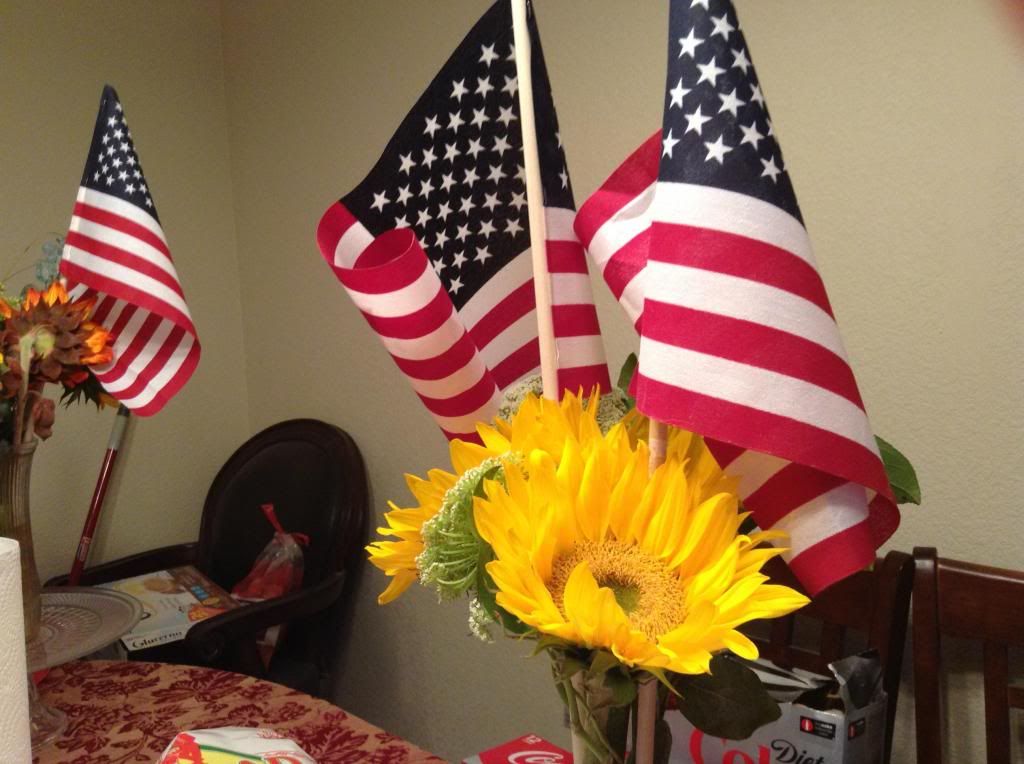 Centerpieces for the table. Is there anything more American than sunflowers and the American Flag?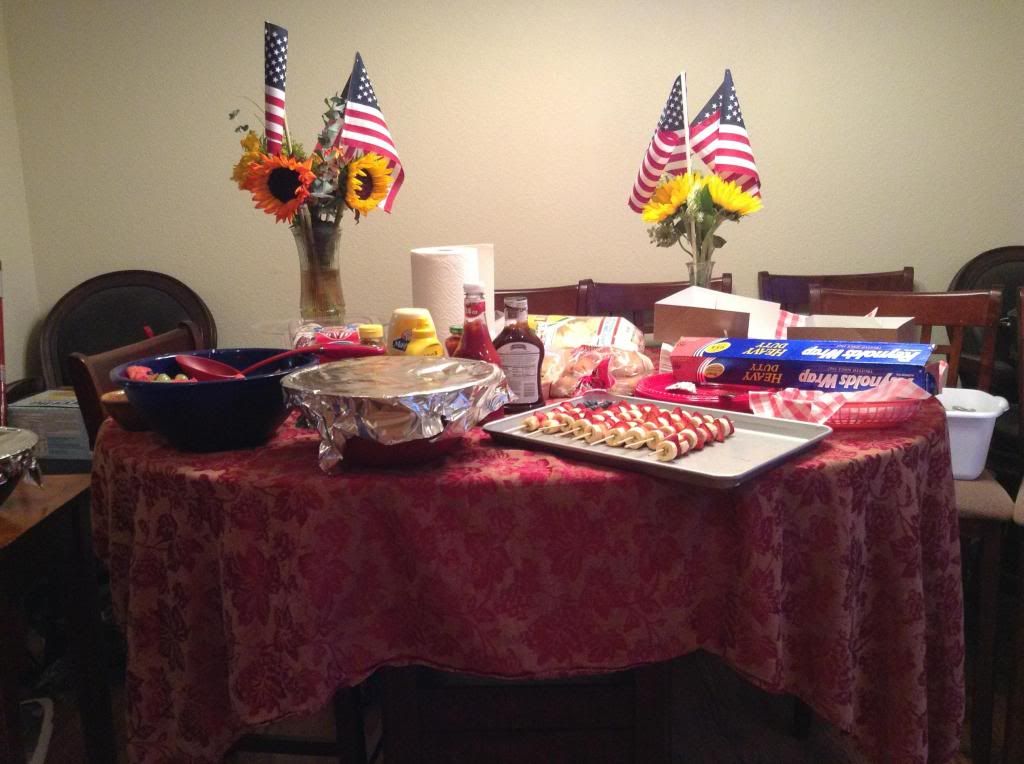 And of course the tablescape.