For the next few months, my pal
Sydney
is partnering with
Ashley
and hosting a monthly link up about all of the craziness that planning a wedding involves. Being newlyweds still, all of the craziness of planning a wedding is still fresh on my mind. There are so many things I wish I could go back and tell myself
(i.e. stressing about how many lollipops are needed for "thank you for coming" gifts was a colossal waste of worrying).
So, I am so excited to be participating in this link-up to hopefully impart some of my hindsight knowledge.
Obviously, before the wedding planning can get started, you have to get engaged first, right?! Right. So, here goes our engagement story. And, I'll be honest, it's a little unconventional. But, the end result is romantic and perfect.
As most of you have read from my Love Story page, we were high school sweethearts
(and I kind of hate that we were sometimes...more on that later).
We became good friends first and fell in love in early 2008. However, neither of us didn't want to start a relationship. I was a young high schooler, he was preparing to serve a two-year church mission for the LDS Church. Attachment was not something we needed. JD left for his mission to Columbus Ohio in August 2008 and he served until August 2010. For those two years we didn't talk on the phone, text or anything
(I know, basically caveman communication was required)
but we did write lots of letters and kept our friendship blossoming. I dated other people while he was gone, but I still had a faint hope in my heart that when he got back our friendship would perhaps blossom into a real romance. After not seeing him or talking to him in nearly two years, we were reunited in 2010 and our love was instant. We dated for almost two years, waiting for the timing to be right. I was finishing up high school, then just starting college. He was working all the time and saving up to start college. And, we just weren't "ready" even though we were deeply in love and knew we wanted to spend our lives together.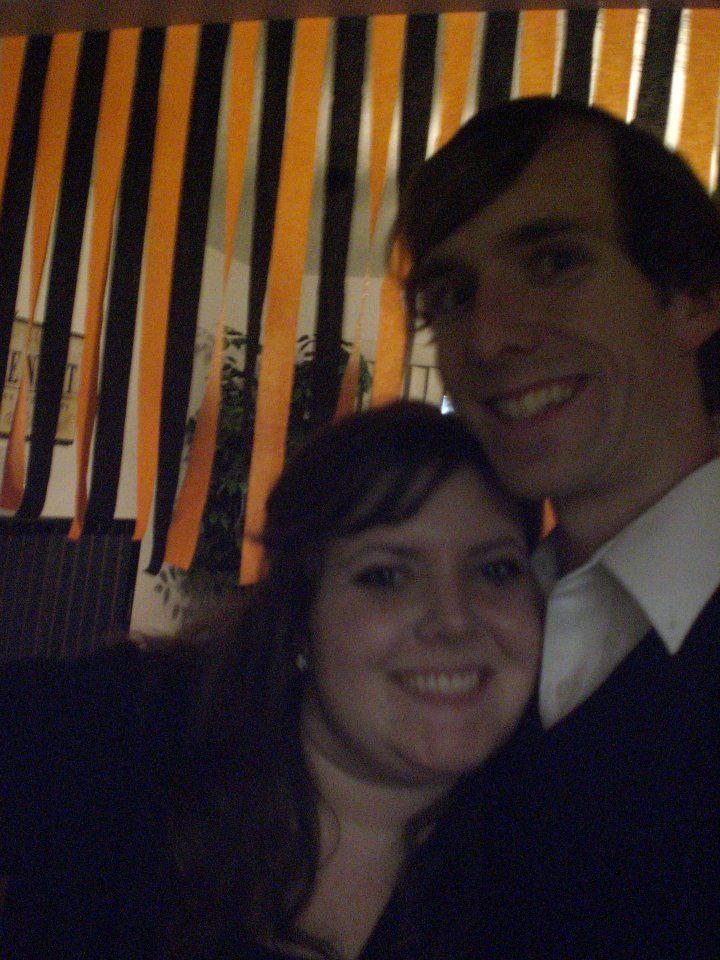 The Dating Time, October 2011
In December of 2011 I had sinus surgery right before Christmas
(Merry Christmas to me, right?).
My parents came down to St. George, UT from Wyoming to spend the holiday with me and nurse me back to health. Every hour JD wasn't working, he was by my bedside assisting in my care. Seriously, I am not even joking. He changed bandages, gave me medication, and did pretty much everything he could for me. The entire time I just felt so lucky. I had my wonderful parents and my sweet boyfriend there helping me get back to good health.
My dad had to go back up to Wyoming right after Christmas for work, so my mother stayed in St. George with me until I was fully recovered. When my recovery was complete and my mom had to go back to Wyoming, we met my dad in the middle of the drive
(Beaver, UT....really not the middle for him, he drove a lot further than us, but he was a great sport!)
and dropped my mom off to him. Then JD and I were going to drive back to St. Geezy
(as we affectionately call it).
The week previous to this, JD had told me in confidence that he was going to ask my father's permission to marry me. He wanted to make sure my father approved before he proposed
(I know, sweet much?).
JD asked both of my parents for permission to take my hand in marriage in a Wendy's in Beaver, UT
(not the most ideal situation, but, hey he worked with the opportunity available).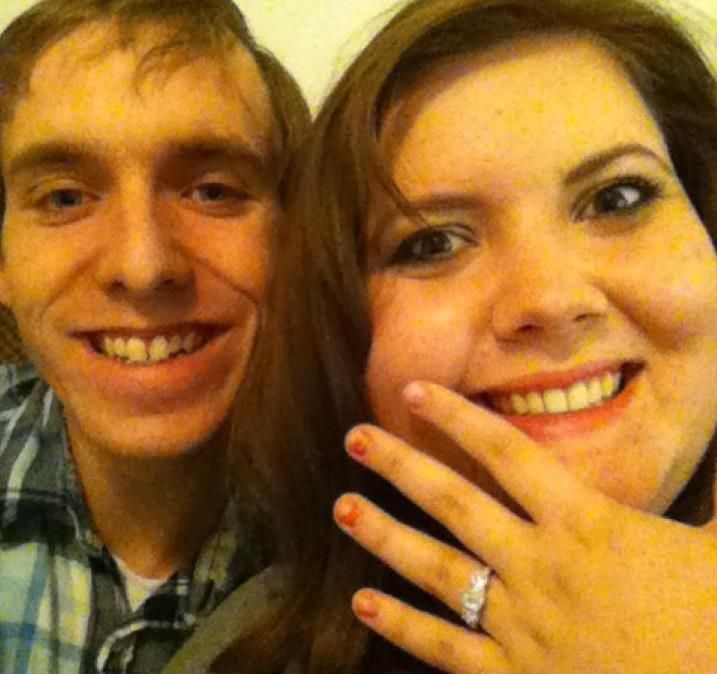 The Engagement Night, January 2012
On January 6, 2012, JD asked me if I wanted to go to dinner, rent a movie and walk around the temple. That was pretty much our standard for a great date night
(we were poor college students, dates were simple).
I got all ready and he came to pick me up. He wanted me to pick where we ate and I picked Durango's, my fave St. Geezy eatery. I got my usual Taco Salad
(which I believe is made of pure awesomeness because it is so delish)
and we went over to pick a movie to rent. We decided on Crazy, Stupid, Love
(still my fave movie to this day).
After picking a movie we drove over to the St. George LDS Temple.
(I just want to emphasize I had NO REASON to think this date was unlike any other, JD still thinks it wasn't a surprise since we'd picked out a ring a few days earlier, trust me it was)
This location had a really special meaning for us for lots of reasons. It was our favorite date locale
(mostly because, it was free!).
We loved going to do baptisms for the dead, going through the visitor's center and just walking around the grounds. Also, our first kiss was outside that temple on a bench in 2011
(we waited a long time before we kissed, and I am still so grateful we did that, it made it so much more special).
We did our normal walk around the temple, then JD took me to the bench where we had our first kiss. His arms were tight around me as we stared at the lights adorning the trees surrounding the temple, it was just after Christmas so the decorations were still up. He kissed me and stroked my hair. He whispered that he loved me and then he was all of the sudden on one knee. I kept saying "Oh my gosh, what are you doing? What are you doing?!" He had tears in his eyes and said "Megan Elizabeth Potter, will you marry me?" I am pretty sure I just sat and cried for about 15 minutes until I finally muttered out "YES!"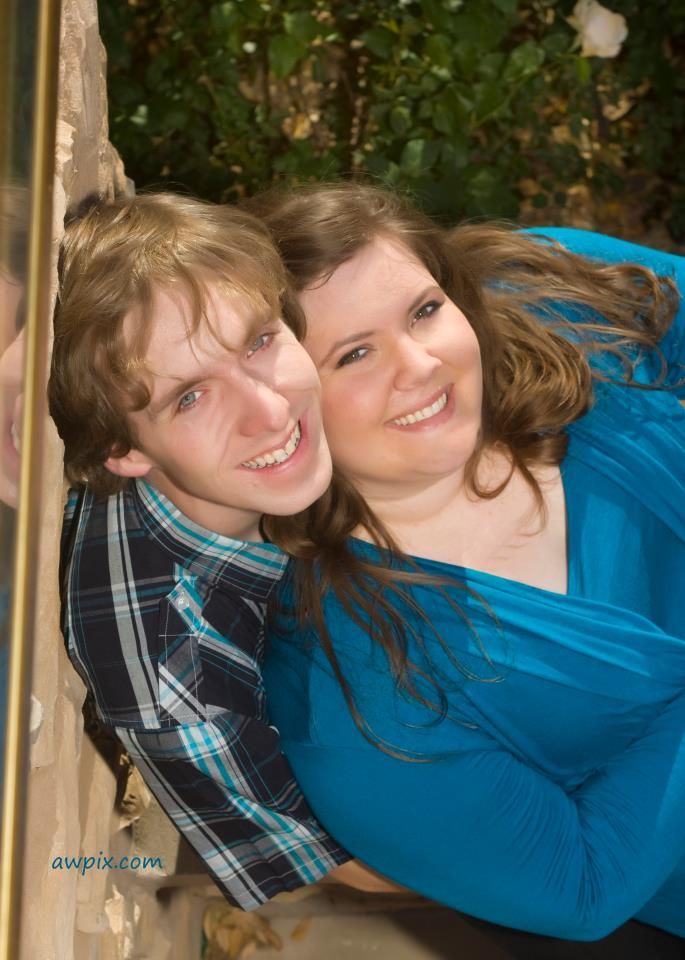 The Engagement Photos, April 2012
Then, of course the wedding planning all began and clearly we survived it. Here's my first piece of advice to all brides-to-be, as long as you are married to the absolute love of your life at the end of your wedding day, nothing else that happens really matters.
Trust me.